In this article I am going to show you the best Hip stretches that you can do.  By incorporating these into your stretching routine you can develop or maintain a healthy level of Hip flexibility.
Hip Stretch #1: Pigeon Pose
My personal favorite Hip stretch is the pigeon pose.  It targets several areas of your hip, gluteus, and even your hamstring to a lesser extent.  You want to aim for 2-3 sets of this stretch, and try to hold it for at least 30 seconds (with this particular stretch you can hold it for multiple minutes comfortably).
 To Perform:
Start by getting into a semi-lunge position with your front leg a little bit to the opposite side
Slowly bend your front leg to the side (Picture 1), if you are having trouble move your front foot closer to your other knee to decrease the angle
Ease into the position by leaning forward (Picture 2) until you feel a solid stretch and hold for an appropriate amount of time
Hip Stretch #2: Butterfly Stretch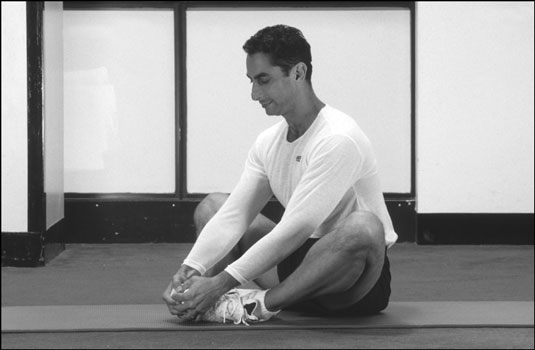 The butterfly stretch is better known as a groin stretch, but is also a good stretch to loosen the Hips.  Remember that the hip joint and the groins share a lot of common muscles to perform their respective functions.  The butterfly stretch will allow you to open up your Hip and get a good stretch while also stretching your groin and adductors.
To Perform:
Sit on the floor with your legs out in front of you
Put the soles of your feet together as much as possible
Pull your feet towards you using your hands on your ankles
Push down on your knees using your elbows until you feel a good stretch
Share